All levels of leadership of Taizhou Agricultural Bank of China come to our company with inspect and guide
2009-11-12 0:00:00
November 10, 2009, Deputy Secretary of Party Committee of Taizhou Agricultural Bank of China,Vice President Minchong Bao, Party Members,Vice President Weigang Chen,and Party Secretary of Jiaojiang branch President Gang Lu, his team of seven come to our company with inspect and guide.The chairman of group Jianli Ye,personally to meet and accompany them to visit the whole new factory. During the visit,Chairman Ye introduced departments,workshops and the functional use of equipments in detail.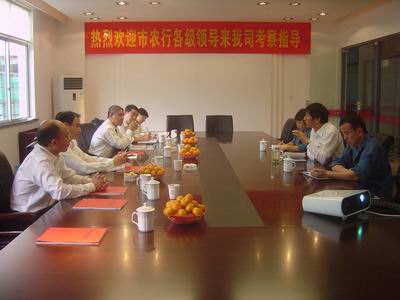 Since the second area of precious has been ground-breaking 2007, experienced the baptism of the financial crisis, encountered many difficulties, however, with the wise decision from precious think-tank and act decisively of precious leaders, the new factory area was moved steadily,completed successfully and put into use in May 2009. The new plant has coating,assembly,testing and a series of advanced equipments at home and abroad,never stop moving towards to the lean direction of plant management with brilliantly effective management. It was simply worlds apart compared to the original factory, no wonder so praised by leaders:"Such on-site management is really a rather unusual in Manufacturing enterprises."
After the visit,in the No.2 Meeting Room,the Chairman of Group Jianli Ye,the Deputy Chairman of Group Liyong Guan,the CFO of Group Guifen Mou introduced the development course of precious to the leaders of Agricultural Bank of China,and listened to the leaders' valuable advice carefully,and shows precious have confidence and ability to develop to a higher target.