Precious Group hold farewell staffs join the army meeting of 2009
2009-12-5 0:00:00
On Dec.3 afternoon,Precious Group Union Committee hold farewell staffs join the army meeting of 2009,saw off three youth who'll join the army.
The farewell party was hosted by Precious Group Union Committee Chairman and TAIZHOU Carton Factory Deputy Director Zhiyong Su .At first, group Deputy General Manager Liyong Guan spoke,it was happy that our group can training excellent youth who fix the need of socialist modernization,and asked three youth to work hard to make themselves to be pillars of the country.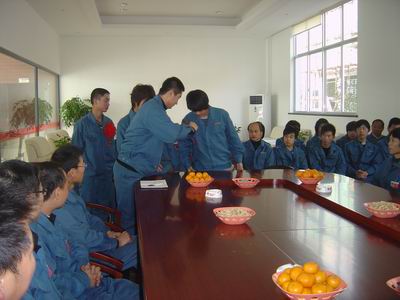 In our applause,group head of Administration Dongxing Wang help three new soldiors to wear glory flwoer,and send gifts from Union Committee,three new soldiers expressed what they were thinking,thanked the leadership,expressed they have the confidence to future.
In the free talking,other staffs give their best wishes,it contained experience from veterans.
The farewll party was finished in applause,let's wish they have a nice trip.